A reward of up to £10,000 is being offered for anonymous information for the name of the person responsible for two serious sexual assaults in Harpenden 20 years ago.
The forced sexual assaults occurred between 7 April and 19 June 2002, and now suspect a third attempted abduction was committed by the same man in 2004.
A man grabbed a 16-year-old girl who was walking along Piggottshill Lane 6.00pm and 6.30pm on Sunday 7 April 2002, was then dragged into a nearby field where he sexually assaulted her and forced her to perform sexual acts.
In incident one, the offender is believed to be using a silver Vauxhall Astra with a C or D registration.
Detective Inspector Justine Jenkins from the Bedfordshire, Cambridgeshire and Hertfordshire Major Crime Unit, said: "We are still really keen to trace a man and a young boy, aged about 9 or 10 years at the time, who may have been carrying fishing rods. They would have seen the victim in Piggottshill Lane on her way to her friend's house between 4pm and 4.30pm and could have seen a silver vehicle. If this was you, please do get in touch. Any information you have could help us catch this man."
Just two months later on Wednesday 19 June 2002, between 6.45pm and 7.00pm, a man forcibly put 17-year-old female who was walking along Wheathampstead Road when into a small red car. The man drove her down Piggottshill Lane and took her to a wood, where he forced her to perform sexual acts and then proceeded to sexually assault her.
In incident two, a small red M-registration car was used by the offender, of a similar size to a Vauxhall Corsa.
The offender was wearing shiny blue tracksuit bottoms with red piping down the side.
She said: "We know a man on a bicycle cycled past the small red car parked in Piggottshill Lane and we are also keen to trace him. Was this you? Your information could be crucial to helping us solve these serious sexual assaults.
"We have forensically linked the two offences from DNA evidence, but he is not on our database – so all we need is a name."
An investigation was conducted and linked the two assaults, with scientific evidence suggesting the same man was responsible. The suspect was described as having tanned or dark skin, between 5ft 7in and 5ft 9in tall, with dark hair and aged in his late 30s, who would now be in his late 50s.
A third possibly linked offence happened two years later in 2004 – just after 6pm on Wednesday March 17 and involved a 12-year-old girl walking in the High Firs Crescent and Greenway area of Harpenden. As she walked down Green Way, away from the Wheathampstead Road, she was grabbed from behind and dragged into a public footpath, known locally as the Spinney. The man, who was carrying a knife, threatened and restrained the girl, before a woman intervened and he ran off.
DI Jenkins said: "Although the offences happened such a long time ago – 19 and 21 years ago, the impact of these crimes has had a lasting and devastating impact on these women and they have never had closure on their terrifying ordeals."
She said: "Following extensive enquiries at the time, we have never closed this case – and have been working with forensic specialists as well as Crimestoppers and Crimewatch Live as we remain determined to find this man and find justice for these women."
The 17-year-old girl from Wheathampstead Road, who is now aged in her 30s, recalls the devastating and long-lasting impact of what happened to her on 19 June 2002. Speaking in February 2023, she said:
"Despite how I thought I felt, looking back, I was on a path of self-destruction that lasted seven to eight years. I became a master at disguising how I felt inside and was able to put a front on, even though internally I was completely broken. I'd binge drink, self-harm, push people away when they were getting too close. I hated myself and those around me."
Asked how the sexual assault has impacted on her 21 years later, she said:
"I'd love to say it has no effect at all, but deep down it's always there – like a black cloud hanging over me. I'm definitely more guarded and untrusting of people.
"I made the decision to move away, the town where I grew up had too many unhappy memories for me.
"I never want that moment in my life to define me, even though it does. I was forced to grow up.
"Now 21 years later, my life has changed beyond what I could ever have imagined. I face new struggles daily, bringing up children with the violent act I have endured is not easy. Ensuring they are protected without smothering them is impossible. I question everything and ask my husband constantly for reassurance on whether my thoughts are normal because of what I have been subjected to.
"I still have episodes of self-harm, and self-loathing, albeit rare.
"It has made me build a wall around myself and my family and no-one is allowed to enter."
***Crimestoppers are supporting the investigations by offering a reward of up to £10,000 for anonymous information they receive – via their website or by phone on 0800 555 111 – that leads to the conviction of the man or men responsible.***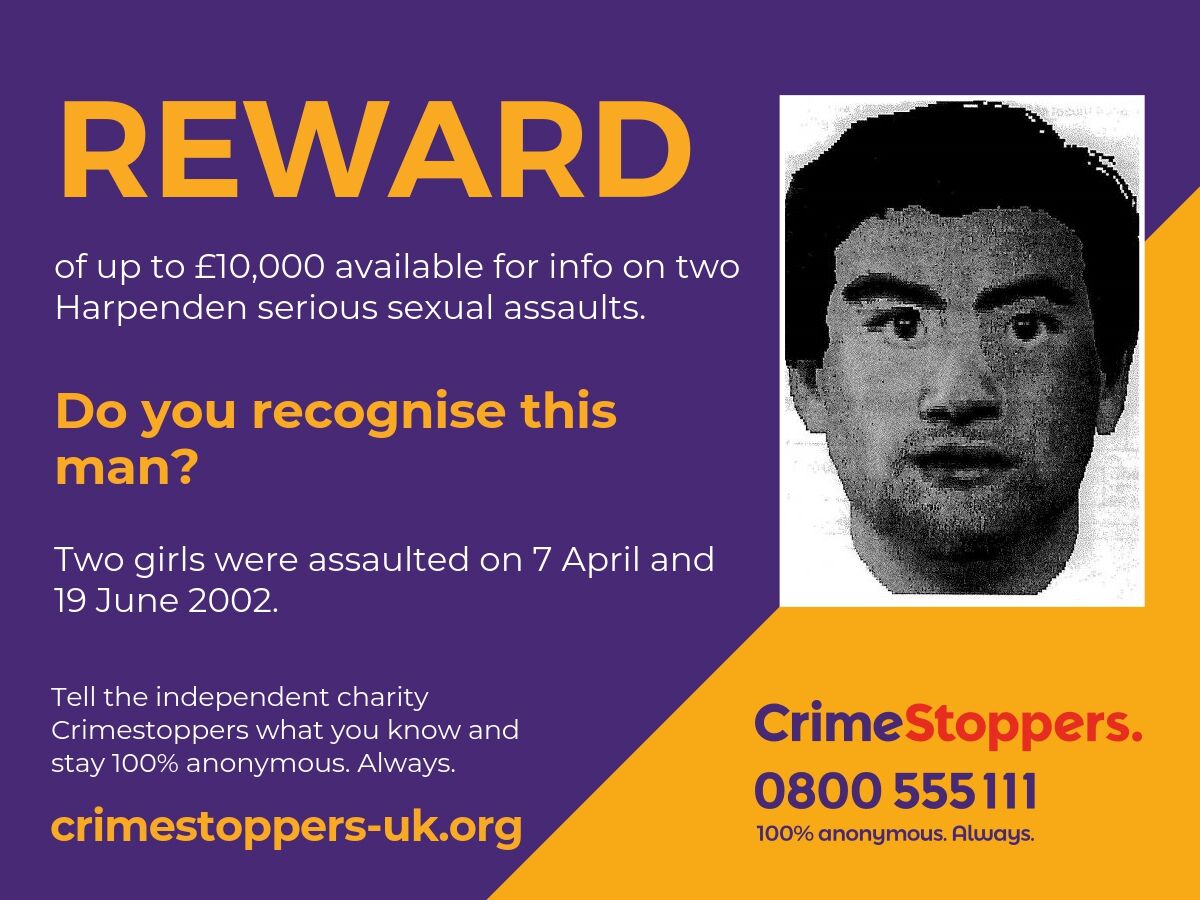 Despite a BBC Crimewatch appeal and an e-fit released to the public have yet to result in any suspect identification.
Annabelle Goodenough, South East Regional Manager at the charity Crimestoppers, said: "These are awful, heinous crimes which should never have happened. Innocent children went through terrible ordeals, and they have had to grow up without anybody facing justice for the severe harm caused to them. We know it can be difficult to speak up about someone you suspect may be involved in a serious crime, especially if they are close to you. This is why our charity is here to help."

Detective Inspector Justine Jenkins added: "Were you living or working in Harpenden at that time? Are you one of the three key witnesses or did you witness something suspicious that's stayed on your mind since? Any information you have, no matter how small it might seem, could help us get the breakthrough we need.

"I would also like the public to take another look at the e-fit. Did you know someone who looked like this 20 years ago? We are keeping an open mind and due to the fact that he was driving a car, it's possible that he was not local to Harpenden. Do you know someone who had access to both a red and silver vehicle? Please take a good look and contact us if you think you recognise him.

"Any information you can give us is just as important now as it was then. Do not hesitate to get in contact if you think you can help. If you contact the charity Crimestoppers directly, you could be eligible for a reward."
Anyone with any information can call the incident room on 01707 355666 or report online at Public Portal (opens in a new window).