September Walk-in Clinics and in Town Shopping Centre
Daily Walk-in Pfizer Clinics now Avaialble 8:30 – 4:30pm
St Margaret's Hospital, Spencer Close, Epping CM16 6TN
Hemel Hempstead Hospital, Hillfield Road, Hemel Hempstead HP2 4AD
Former Argos Store, Garden Square Shopping Centre, Letchworth Garden City. SG6 3DP
Robertson House, 6 Six Hills Way, Stevenage. SG1 2FQ
Town Hall, Watford. WD17 3EX
Ware Priory, High Street, Ware. SG12 9AL
Roche Pharmaceuticals, Hexagon Place, Falcon Way, Shire Park, Welwyn Garden City. AL7 1TW
If you prefer the certainty of a guaranteed appointment, people aged 18+ can book their vaccine via the National Booking Service or by calling 119.
Sunday 22th August Vaccinations available at Watford FC stadium Vicarage Road
First doeses for 16+ of age. Second doses if first jab was over 8 weeks ago.
---
July 5pm-8.30pm come and get your covid vaccination at St Mary's Church, WD18 0EG.
Everyone 18+
Pfizer and AstraZeneca
First or second dose (must have received 1st dose at least 8 weeks ago)
Pfizer and AstraZeneca appointment and walk-ins at St Mary's Church on (Tues 27 July 5pm-8.30pm)
Pfizer and AstraZeneca walk-in vaccinations at Town Hall (dates up until Sunday 1 August – times vary)
---
Sunday 27th a Vaccination Event takes place at at Watford FC stadium.
Watford Borough Council is working in partnership with the NHS and Watford FC to host a mass Pfizer vaccination clinic.
10am – 9pm Entry to the stadium will be via a queue from The Hornets Shop down through Occupation Road. Social distancing will be maintained. Face masks must be worn at all times (unless exempt).
The venue is fully wheelchair accessible via access points, ramps and changing places facilities.
Those who are receiving their first jab, can attend a follow-up clinic in about 8 weeks time. Getting the second vaccine provides even greater protection from the Covid-19 virus.
100's More locations here
Pfizer vaccine clinic on Wednesday 23 June from 9.30am to 1pm.
---
16th June, people can get vaccinated with the Pfizer vaccine against coronavirus
Stanborough Park Church Seventh-day Adventist Church Pfizer vaccination clinic (near Garston) will be accepting walk-ins between 10am to 1pm, and 2pm to 5.30pm
People are not required to book or show ID to gain entry.
To book call 01923 278181. Lines are open Monday to Friday (9am to 7pm) and Saturday and Sunday (12noon to 5pm).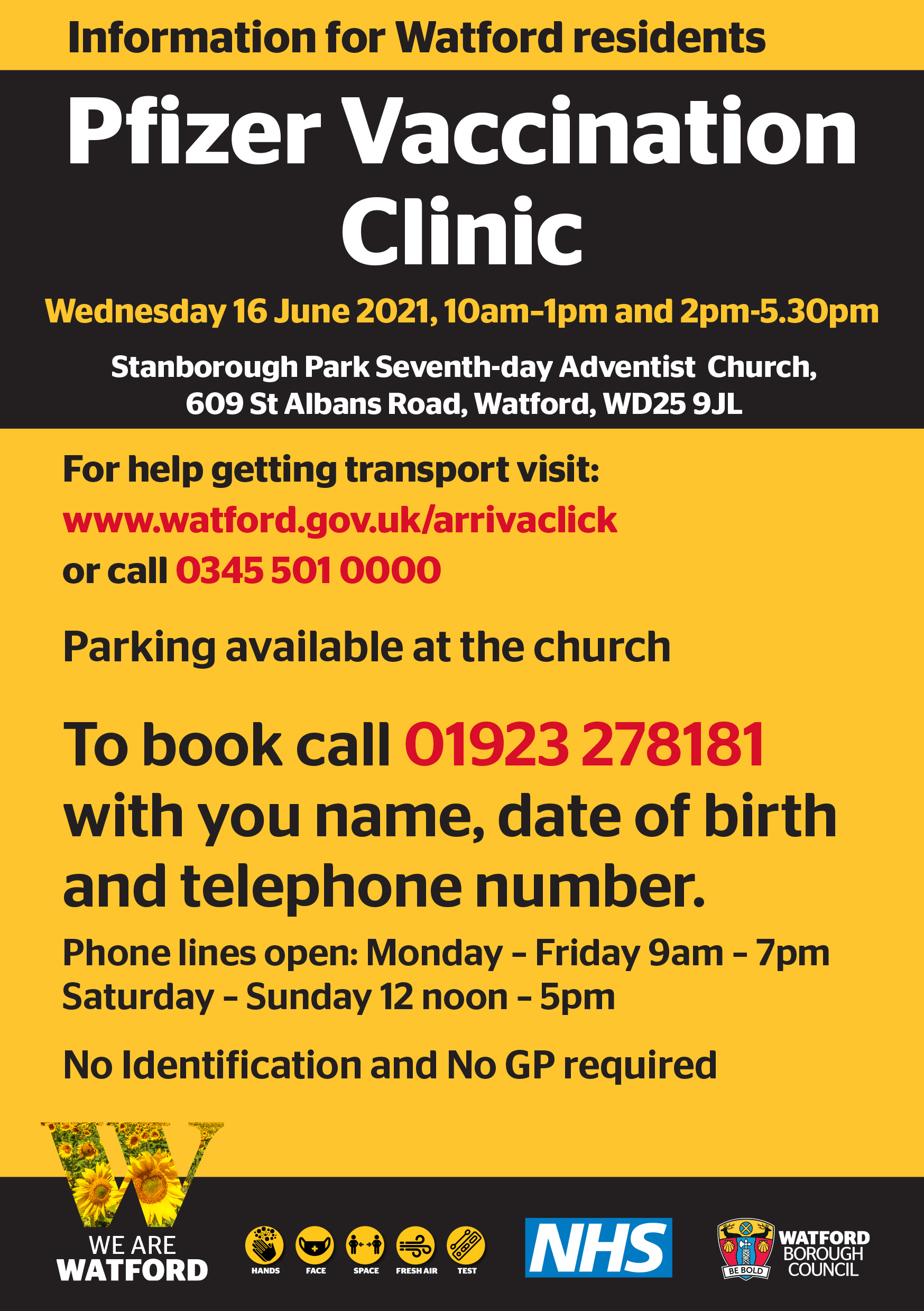 Elected Mayor of Watford Peter Taylor said:"It's fantastic to have Watford's Seventh Day Adventists Church proactively taking part in a pilot which will play a big role in helping to protect our community. Testing is an important tool to help combat the spread of the virus and it is a simple action we can all take in order to safeguard others. Our town has been incredibly united throughout this crisis, rallying to protect and support others, and this pilot is another great example of this."