Matt Hancock's management of the COVID pandemic is facing renewed scrutiny after over 100,000 WhatsApp messages were leaked.
Journalist Isabel Oakeshott has reportedly leaked over 100,000 COVID-related messages sent via WhatsApp by former health secretary Matt Hancock.
The messages were shared with The Daily Telegraph, purportedly to aid in the writing of Hancock's book, Pandemic Diaries. The newspaper alleges that Hancock ignored the advice of Chief Medical Officer Professor Sir Chris Whitty regarding mandatory COVID testing for individuals entering care homes in England, among other claims.
However, Hancock disputes the allegations, citing a non-disclosure agreement signed by Oakeshott, which stipulated that the messages would only be used for background purposes and not published unless relevant to the book.
The MP said: "I am hugely disappointed and sad at the massive betrayal and breach of trust by Isabel Oakeshott. I am also sorry for the impact on the very many people – political colleagues, civil servants and friends – who worked hard with me to get through the pandemic and save lives.
"There is absolutely no public interest case for this huge breach. All the materials for the book have already been made available to the inquiry, which is the right, and only, a place for everything to be considered properly and the right lessons to be learned. As we have seen, releasing them in this way gives a partial, biased account to suit an anti-lockdown agenda."
Last night, Ms Oakeshott insisted she gave messages to The Telegraph because of the "overwhelming" national public interest and it was not about attacking the former health secretary.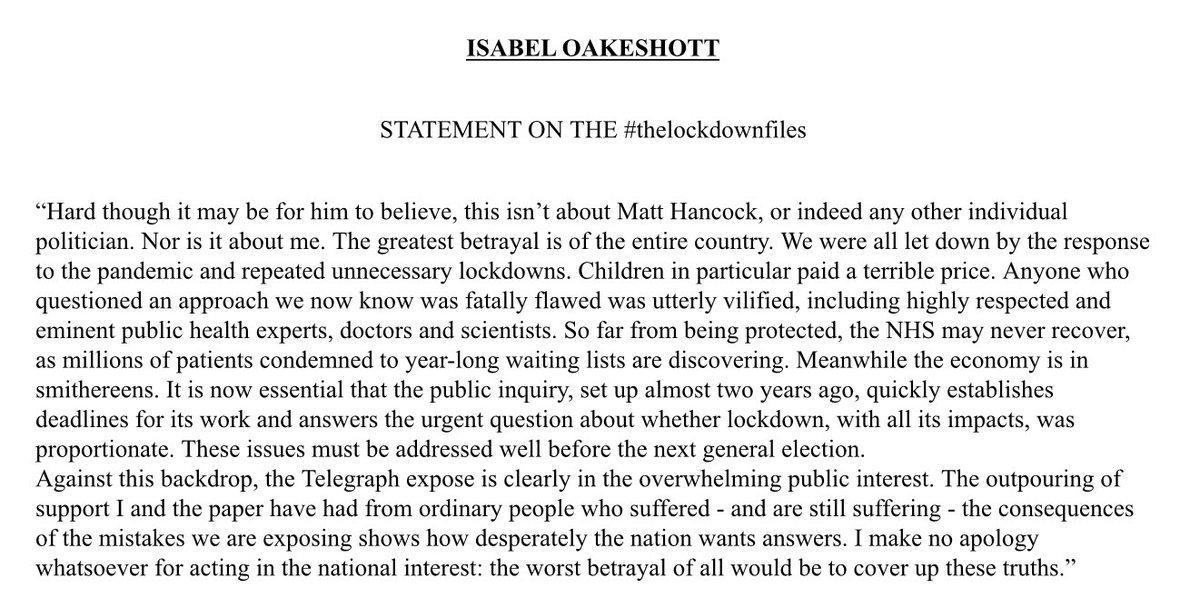 She also claimed she received a "menacing message" from Mr Hancock when he found out about what she had done – but Mr Hancock said, "this is wrong".
The leaked messages also reportedly mention former Chancellor George Osborne and Conservative MP Jacob Rees-Mogg.
At Prime Minister's Questions, Rishi Sunak defended the public inquiry as the "right way" to scrutinise the handling of the pandemic and urged people not to focus on "piecemeal bits of information".